Sparta Global has been awarded Best Employer for Training at the 2023 Women in Tech Employer Awards. This award recognises Sparta Global's commitment to its employee's professional development through dedicated programmes that help women in tech to upskill, be eligible for progression and leadership, and to aspire to more senior opportunities. 
The Women in Tech Employer Awards celebrate individuals going above and beyond to help close the gender gap within the tech sector.
At Sparta Global, we are committed to removing barriers to entry for women looking to kickstart careers in tech. Hosted at the Royal Lancaster Hotel on Thursday June 15th, Sparta Global was highly commended at the awards evening for its recently launched Athena Academy.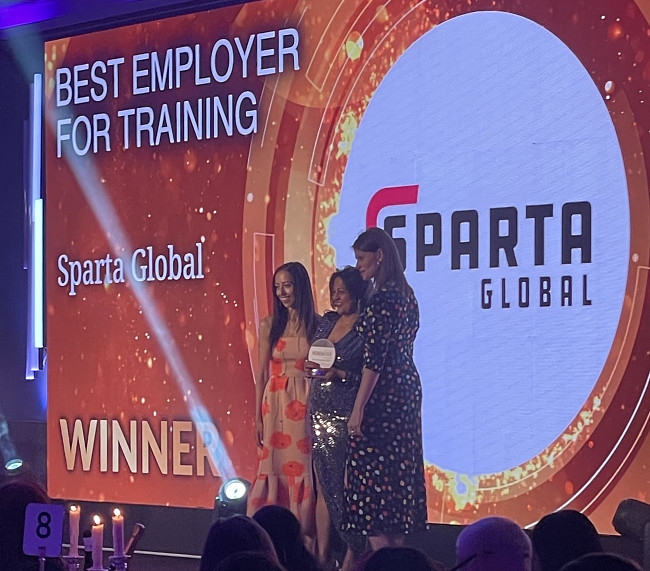 The Athena Academy is a celebration of women wanting to work in technology, but who may not have had the confidence to pursue a digital career in a space that is still largely dominated by men. The Athena Academy offers women the chance to join, learn, work, and grow into future tech leaders – providing them with the confidence, skills, and connections to build a profitable and powerful tech career. While similar to Sparta Global's traditional Academy pathway that provides funded and paid training opportunities across key technical specialisms, the Athena Academy is led by an all-women award-winning training team, and women are given the opportunity to learn alongside a small all-women cohort to deliver a true sisterhood of support. The Athena Academy is a supportive and safe space for women to push the limits of their potential.
Technology needs women; their fresh thinking, diverse perspectives, and passions. The industry simply cannot rise to meet the needs of society without diverse teams building its products and services. Find out more about Sparta's Athena Academy here.
Read up here on Sparta Global's wide ED&I initatives that have led to us being the most inclusive, B Corp certified, hire train deploy company in the UK.
Watch the video below to meet some of our Athena Spartans!